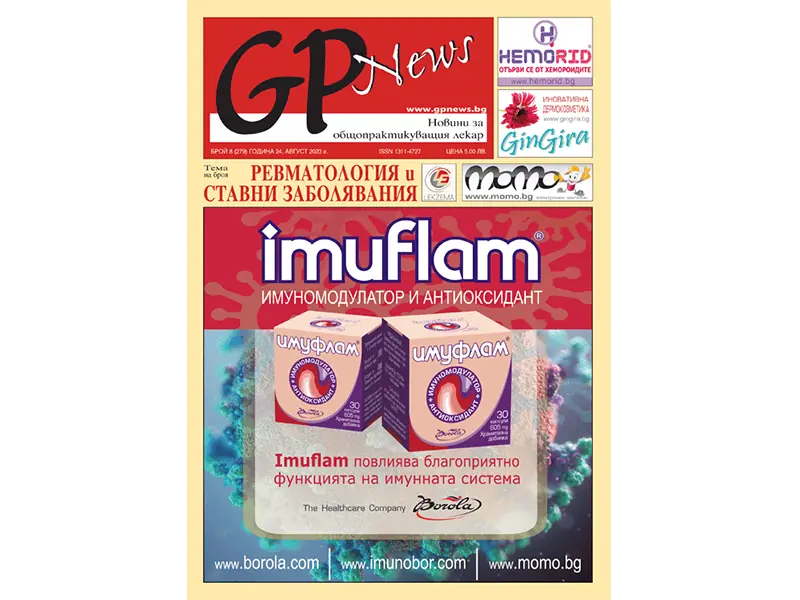 Rheumatology and joint diseases
Etoricoxib – the agent of choice in rheumatology practice
Nestorova, R., Rheumatologist
Why is the diagnosis of inflammatory rheumatological diseases delayed in out-hospital care or can we shange stereotypes?
Kazmin, I.
Assessment of the diagnostic features of psoriatic disease in outpatient care
Momcheva, I. , Hristova, Sv., Bliznakova, M., Hristova, I., Madjova, V.
Biological and targeted therapy for the treatment of psoriasis and psoriatic arthritis
Popova, V.
Eye involvement in rheumatic diseases and antirheumatic therapy
Shumnalieva, R., Shumnalieva-Ivanova, V., Kotov, G., Monov, S.
Systemic sclerosis – progressive autoimmune disease
Reshkova, V., Monov, S.
Raynaud's phenomenon
B. Zhelezarova
Gout – a well-known unknown? (practical tips for treating gout)
Penev, B., internal medicine and rheumatology
Perspectives for application of the biopsychosocial model at the treatment of chronic back pain
Gerasimova, D., Takeva, I.
Nutritional Therapy as a Modifiable Risk Factor for Non-Alcoholic Fatty Liver Disease (NAFLD) – Summary and Facts
Grudeva, L., Medical University – Varna